For anyone who's had the fortune of knowing Julie Roehm up close or has worked with her, the saying about the hand that rocks the cradle, rules the world was crafted with a woman like her in mind. The modern day Athena in business strategy and planning, Julie doesn't limit her life to boardrooms and client meetings. The mother of two is happily married, and lives in Arkansas with her husband and children.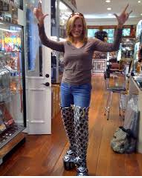 Asked whether there's any truth in business being a man's world and women having to step down to make way for commitments like marriage and family, Ms. Roehm benevolently smiles away such claims stating that she's as much a devoted wife and mother as a boardroom tigress. Her value systems are firmly rooted and displayed in a successful manifestation of the aplomb with which she executes duties, both for her clients and family.
Though she admits to have faced her challenges when it came to handling the growing pressures of home and work, she is a stickler for work life balance and expresses dismay when people claim that it's a dying cult. In the world of corporate ninjas, it is indeed a fine art to balance both home and profession with equal adroitness. What's more, she says, is that there's no way to lose your cool or let the chinks in your armour show.

A smart worker, Julie Roehm knows the art of timing all her tasks, and yes, she does allow for unforeseen distractions and interruptions. A smart, knowledgeable diva, backed with years of experience, she sets firm limits, and has mastered the art of saying No, gracefully. Never one to put things over people, Julie Roehm knows that dividing a mammoth task into smaller tasks and assigning people with responsibilities makes them happy, while letting her reach deadlines well within time.
No matter what marketing, advertising or business strategy she is busy drafting, this modern day Athena is never too busy for a game of scrabble with her sons or spending a quiet evening at home. Inspite of her schedule making demands on her time, this boardroom genius has managed to tip the scale perfectly between work and personal life.